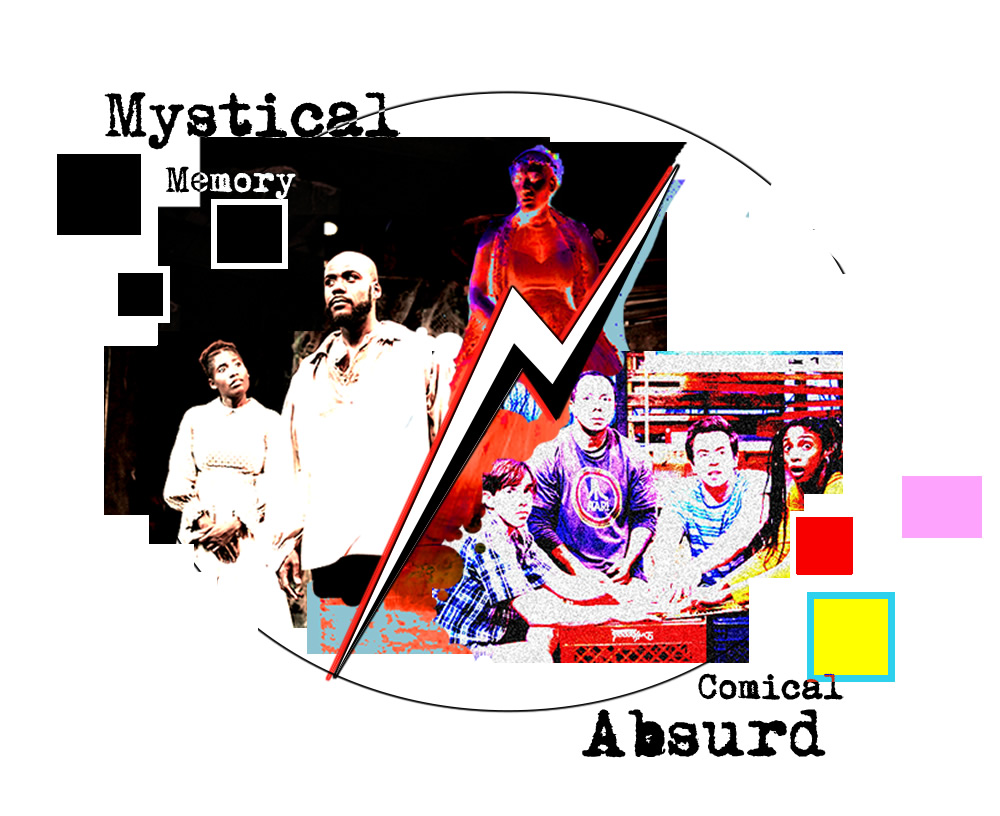 Zen and the Art of Race Theater
An American Saga Revival of Gunshot Medley Part 1, Ready, Steady, Yeti, Go!

Review by Cihan Kaan | August 1 2019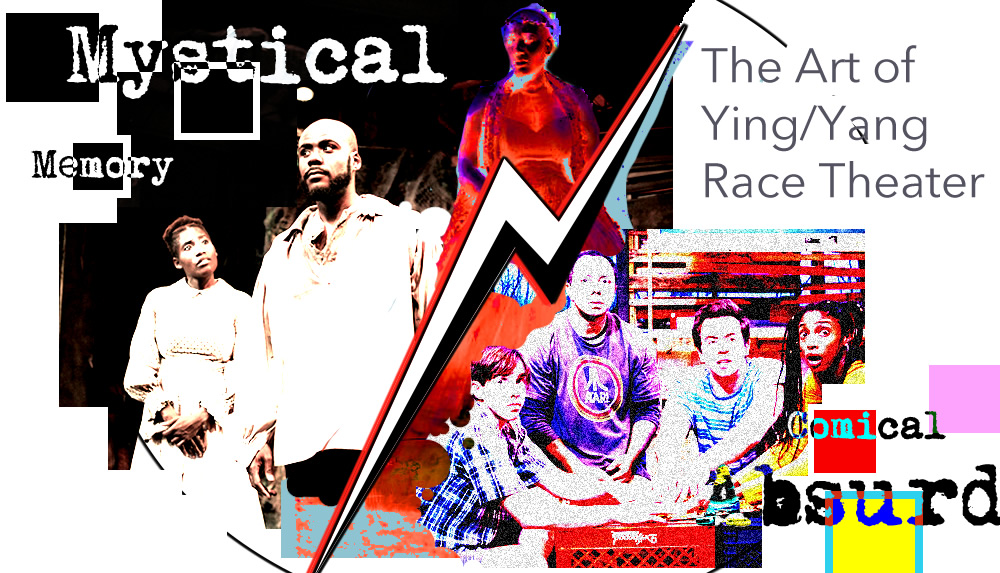 The Vietnamese buddhist monk Thích Nhất Hạnh writes about community, "Some of us do not easily trust another person. For such a person, it can be difficult to imagine sharing with a larger community. We may be a bit wary or even very suspicious. Systematic change can't be achieved without the energy of community. If you want to save the planet, if you want to transform society, you need a strong community. Technology is not enough."
     For those new to Rogue Machine Theater they have been gracing the community of Venice with fantastic works of what I would call Yin/Yang theater. Two distinct plays run during the same season offering different takes of one theme. Those two large hanging posters you see in front of Electric Lodge are all the plays you are missing out on. Try to catch these plays before they're gone. Last season, it was the epic Oppenhiemer matched by Fink. This season, it's the epic An America Saga : Gunshot Medley, Part 1 and Ready, Steady, Yeti, Go!.
The latter has already had it's run and Rogue Machine won't be in town much longer. Think of them as a wandering magic theater that conjures up two opposing plays each season to bring us all to mindful non-duality.

When the curtain comes down
the first question you ask can't be
'Where did I park my car?'
– Paula Holt, Director of Rogue Machine Theater
     This season Rogue has gone woke — perhaps being influenced by the energetics of a Venice caught between encroaching fascism and a special kind of suspicious gentrification, or just maybe they've gone rogue by deciding to tackle the delicate art of race theater in 2019, by allying with The Collaborative Artists Bloc , a performance-art massive commited to social change.
 Rogues artistic director John Flynn has this to say about it, "At Rogue Machine we think theater is community. The theater does not try to answer questions, but we do ask them."
     As one play ends the next crew begins adjustments. The same set with slight modifications are used between the plays. Gunshot Medley's dark and looming antebellum cemetary vibe is turned into a white suburb for Ready, Steady, Yeti, Go! This aspect in itself is fascinating and lends itself to the idea of how our identity-illusions are cast on the same structures.

The linen curtain that concealed a musician from Gunshot Medley (the ominous silhoutted bass player Garret Lofgren) is replaced by a Sony boom-box to be used in the next play, Ready, Steady, Yeti, Go! by the hair covered emo teenager Shades (Morgan Wilday, most recently seen at Pacific Resident Theater Smart Love.)

These are two very different plays that take place in racial other-worldy environments, a genre all it's own (think Get Out or Do The Right Thing.) We can thank the meta-meaning here to Paula Holt, the director of Rogue puts it nicely when she quotes playwrite Edward Albee, "When the curtain comes down the first question you ask can't be 'Where did I park my car?'" And she's right. Both plays, Gunshot Medley and Ready, Steady, Yeti Go!, had me questioning race and identity for weeks after curtain drop.
The audience gives a full standing ovation for Gunshot Medley. Their hearts and minds still racing from the final critical monologue between Betty, Alvis and George, in a final scene that has to be seen to believed. For the hour of run time we dropped into the literal after-lives of these murdered confederate era African-Americans. We heard songs of amazing grace (this writer counted seven musical numbers including O! Molly Dear Go Ask Your Mother, Will the Circle Be Unbroken, Rollin My Sweet Baby Arms to name a few) and witnessed some of the best acting you'll ever see on a community stage. All of it watched over by the high priestess of Souls played by Sha'Leah Nikole Stubblefield, (Witness Uganda, My Footprints LA , NAACP Theatre award recipient) who stands with a stoicism overseeing a space-time continuum of race in America.

The first time writer of Gunshot Medley, Dionna Michelle Daniel came upon the idea when she discovered three segregated tombstones of the real Betty, Alvis and George in her North Carolina town. Bushes had been placed around the stones to keep them separate from the white graves.

Directed with precision and compassion by Desean Kevin Terry, whose many credits include receiving an NAACP nomination for Royale, directing James Baldwin's Blues for Mr.Charlie, and a list of television credits from Shameless to an upcoming Apple TV show with Jennifer Aniston. The amazing cast breaks the fourth wall intimately allowing us to confront the euphoria, the trauma and almost heavenly overview of America from their supernatural hereafter. Betty is played by Mildred Marie Langford (Native Son, Animal Farm, A Raisin in the Sun, Master of Sex), George by Donathan Walters (Native Son, Mexican Day, Rock Steady Row) and and the inimitable Derek Jackson (Try, Step, Trip) as Alvis.
    You will not forget Alvis popping back and forth between worlds bringing back pop-culural artifacts and singing songs he's heard "above ground" to Betty, whose recurring traumatic memories of her racially motivated killing get a surreal reductio ad absurdum between her sunken place and Alvis' need to sing and dance. This creates a fascinating dynamic between the characters and the audience that blends brilliantly with the character of George, who attempts to possess black leaders above ground as a means to end his eternal loop.
In two hours, after the set is finished being modified for  Ready, Steady, Yeti Go!  , we get a 360 degree flip.  A hate-crime  on the one black family in a white suburb results in an "Assembly to End Racism Forever" rally that ends up minstrelizing instead of curing.    Jasmine St. Clair, in her debut performance, plays Carly, the one black girl among her pre-teen clique who must process both the positive and negative attention of the fracas while navigating through her own interracial summer love with Goon (played by Ryan Brophy, nominated for an Ovation award for Skylight Theatre's Rotterdam), the quintessential bully in the neighborhood.  
When she ends up in the spotlight of this Waiting for Guffman type charade all of her patience for the white guilt roadshow is unleashed as a ridiculous mural is unveiled.  A hyper-real, graffiti style hybridized Levar Burton being all his characters at once — Kunta Kinte from Roots, Data from Star Trek, and his Reading Rainbow persona, is presented as a token of a cant we all get along racial tolerance.  At times the audience is angry, confused, laughing, elated and ultimately left within their own epiphanies.  The yang moment to Gunshots yin is a scene where Carly lays down on the grass face-up, her hands gripping into the soil as she tries to imagine the sky is beneath her and the feeling of marginalization she's now grounded in, becomes the top of the world.
Written by David Jacobi, the moment in question triangulates the psychogeography of how a sunken place possibly begins — those precious few seconds where we reframe the world after a racially traumatizing event changes it forever.

   
The Yin/Yang moments of great double features bring new perspective to the tough questions.  Here in Venice, at Electric Lodge, courtesy of the minds behind the Rogue Machine  we witness both a depiction of a child creating that sunken place for the first time  and visit a possible end of the road zone sunken place where the characters of Gunshot Medley eternally live in — here is where the zen of it all lives — if finding equanimity in identity is at all possible.

By the end, it's clear that small community theaters can be a place where healing begins again.  Joshua Alafia (Southside Insight Meditation Circle, Brooklyn Zen Center), a Chicago based zen master and filmmaker whose main focus is the liberation of oppresive mindsets for people of color gracefully explains , "When we are feeling overwhelmed and over exposed to the toxins of society, remember that the heart is an ocean capable of complex filtrations and transformations, and we can practice the ancient Tibetan practice of Tonglen 'taking and sending', we inhale all the pain, hatred, and suffering of the world and exhale the love, compassion and equanimity to heal those ills.  Affirm the spaciousness and vastness of this loving heart we are blessed to have."
In that safe-space of theater we all can share an experience as a community and perhaps that is the first step toward exhaling the love, compassion and equanimity to heal all our ills. As African-American playwright James Baldwin once said, "Not everything that is faced can be changed, but nothing can be changed until it is faced."  In that way, let the show begin and take it all in, the future of community and the world awaits.
Rogue Machine Theatre presents
AN AMERICAN SAGA REVIVAL OF
GUNSHOT MEDLEY
PART I
Directed by Desean Kevin Terry  Produced by John Perrin Flynn & Cristian Kreckler
Cast: Derek Jackson, Mildred Langford, Sha'Leah Nikole Stubblefield and Donathan Walters
This production is a co-production with Collaborative Artists Bloc.
AN AMERICAN SAGA REVIVAL OF GUNSHOT MEDLEY : PART I
is playing the Electric Lodge in Venice until

AUGUST 19, 2019.
Head over to Rogue Machine Theaters website
secure your tickets before they sell out.
If you are interested more in Zen Buddhism
or find yourself in a sunken place of your own,
, "Liberating the Heart, Dismantling Oppression: A Retreat,
with Arinna Weisman, Phoenix Soleil, Lyn Fine & Joshua bee Alafia",
is coming up soon in Joshua Tree, CA.
The retreat runs from September 13-September 22, 2019.
 Click here for more information.