Oppenheimer @ The Electric Lodge
Lightning in a Bottle meets Revolutionary Theater, Oppenheimer Blasts through Venice at the Electric Lodge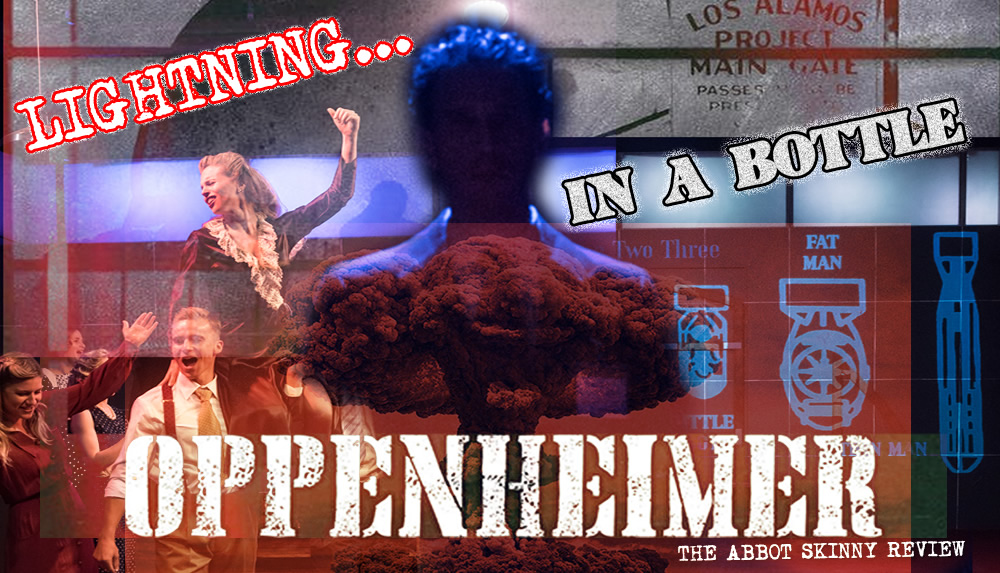 Oppenheimer is challenging. Oppenheimer is vast. Oppenheimer is unforgettable.
Oppenheimer originally premiered in January 2015 in Stratford-upon-Avon as part of the Royal Shakespeare Company and is now gracing our local Venice stage at The Electric Lodge. Rogue Theater, a revolutionary Venice-based theater troop, has taken the play written by Tom Morton-Smith and brought new life to it. A gripping tale of the perils of our nuclear ambition replete with drama, tragedy, choreographed musical sequences. Together with an ensemble cast of super-talented Los Angeles based actors and along with creative director John Perrin Flynn, this take on the Manhattan Project takes us through a historical moment in time not quite different than where we are right now in this moment.
     There are more than a few amazing moments in Rogue Theaters Oppenheimer and you will have to see it in order to understand the full scope of both its monolithic production value and sheer scope. The story covers the personal, political and moral issues of Robert Oppenheimer, best known as the 'Destroyer of Worlds' aka the lead scientist of the Manhattan Project but more so seems designed with another main character in mind. The main character of this show is the era itself; paranoia, nationalism, and the so-called culture of ambitious innovation leading to the bombings in Japan. Here in the meta-meaning of Oppenheimer's overtones are subtle overlaps to our current political climate especially with the ramping up of nuclear war talk in the mainstream media.
The elegantly designed aesthetic beckons us to the 1940s in a rather magical way transporting us within a time-capsule into the age of Oppenheimer. Meticulous costuming reminds us of the militancy on display during the time invoking a color pallet of deep maroons, undyed whites, and beige across a wardrobe of dresses, blouses, and menswear. Set design is virtual. Fast-paced scenes, including some musical numbers, are enhanced with three-dimensional projection maps of titular interstitials, atomic schematics, and the occasional virtual matte to inform the audience where we are or when the next scene begins. Many other reviewers have used the term, brechtian, to describe this effect perhaps in trying to explain the utilitarian stage design or as an attempt to refer to the plays slightly fourth-wall breaking monologues where actor James Liebman, who brilliant depicts the charismatic scientist, quite literally waxes philosophical straight to the audience.

The feeling was like a dance both post-apocalyptic and post-modern in execution, design and story pacing. Oppenheimer feels like lightning in a bottle.
     The combined effect of each little detail of this Venice vision of Oppenheimer makes for a wildly stimulating nouveau-mixed-media surreal storytelling vibe only Venetians could produce or just perhaps the Living Theater artists from New York back in the sixties. The ensemble cast around Oppy, as he is referred to by his social network of various lovers and fellow scientists make for an almost voyeuristic montage of various people's lives. From the tragic arc of his gender-fluid genius mistress Jean Tatlock, played with class and golden era sophistication by Kirsten Kollendar (Masters of Sex, As the World Turns, LA Weekly Best Female Performance for Merchant of Venice) to the sub-stories of General Leslie Groves and Einstein himself, both played with relative precision by the same actor, Ron Bottitta (Black Panther, Thor: Ragnarok, Mad Max: Fury Road), I felt as though I was binge-viewing an entire season of some theatrical version a future "Netflixian" theater company. There's a concept. The feeling was like a dance both post-apocalyptic and post-modern in execution, design and story pacing. Oppenheimer feels like lightning in a bottle.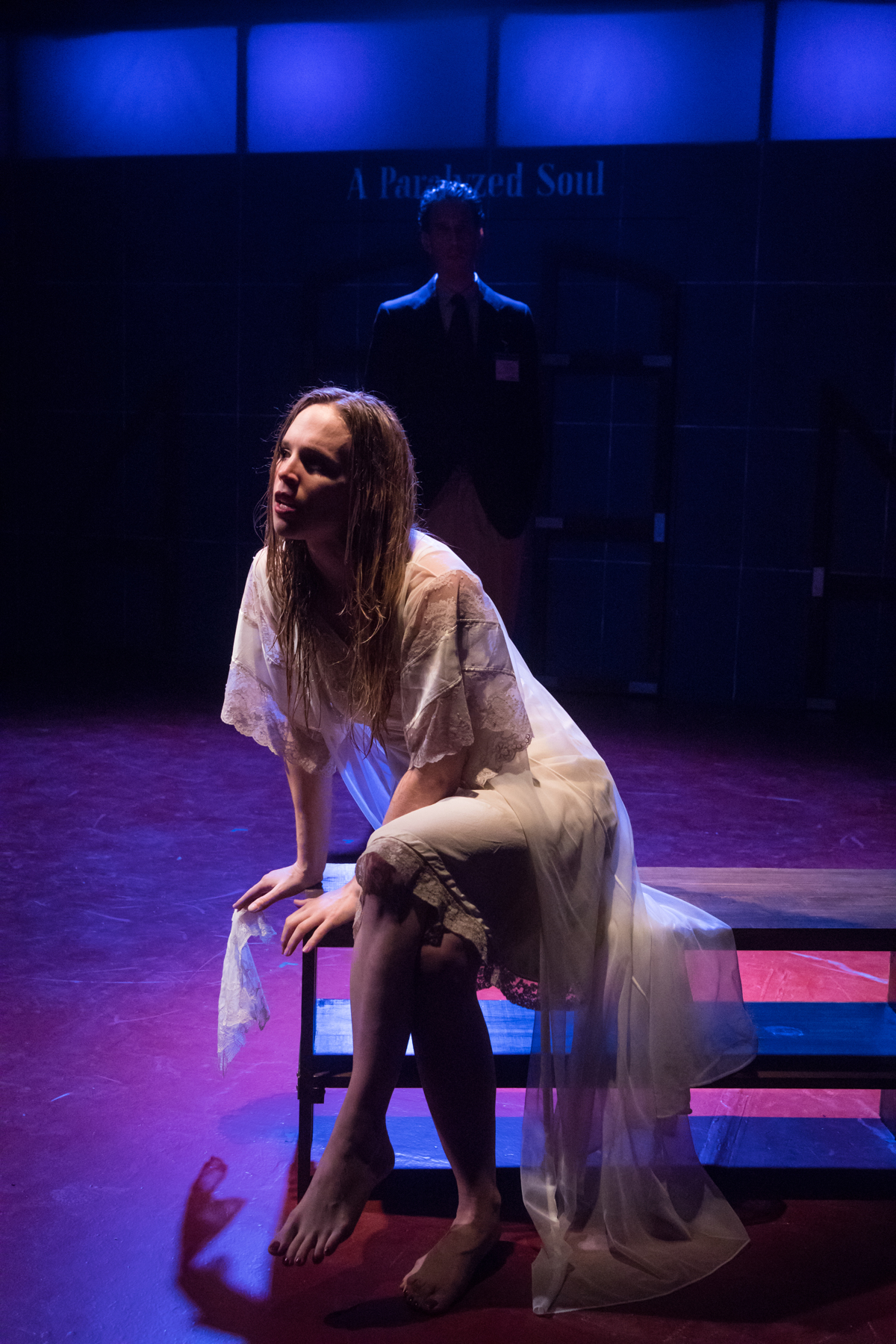 This is not a tale of Robert Oppenheimer and his bomb. Don't go in expecting the Phantom Thread of Bobby Oppy. Rogue Machine has made it very clear in the production goals that they, "…are different than traditional theater." Straight from the mouth of director John Flynn, "We have the best designers, the best actors, the best writers…Henry Murray was a founder of the theatre, one of the original 60. He was a visionary playwright and also the first literary manager of Rogue Machine. We were neighbors and long-time Venice residents. Once a week we'd walk up Abbot Kinney to get breakfast and talk theatre. He was my great friends, my colleague, and my conscience. Together we created The Dramaturge's Table and discovered how we wanted to approach helping playwrights realize their own vision. Henry's understanding of how theatre works and why theatre is important is still present in every production we do. When he died in 2014 his colleagues, friends, and family set up a memorial fund to support new play production at Rogue Machine. We were nomads these 11 years. I think Henry would be extraordinarily pleased we are now in Venice. I know he'd think Oppenheimer was a play we had to do."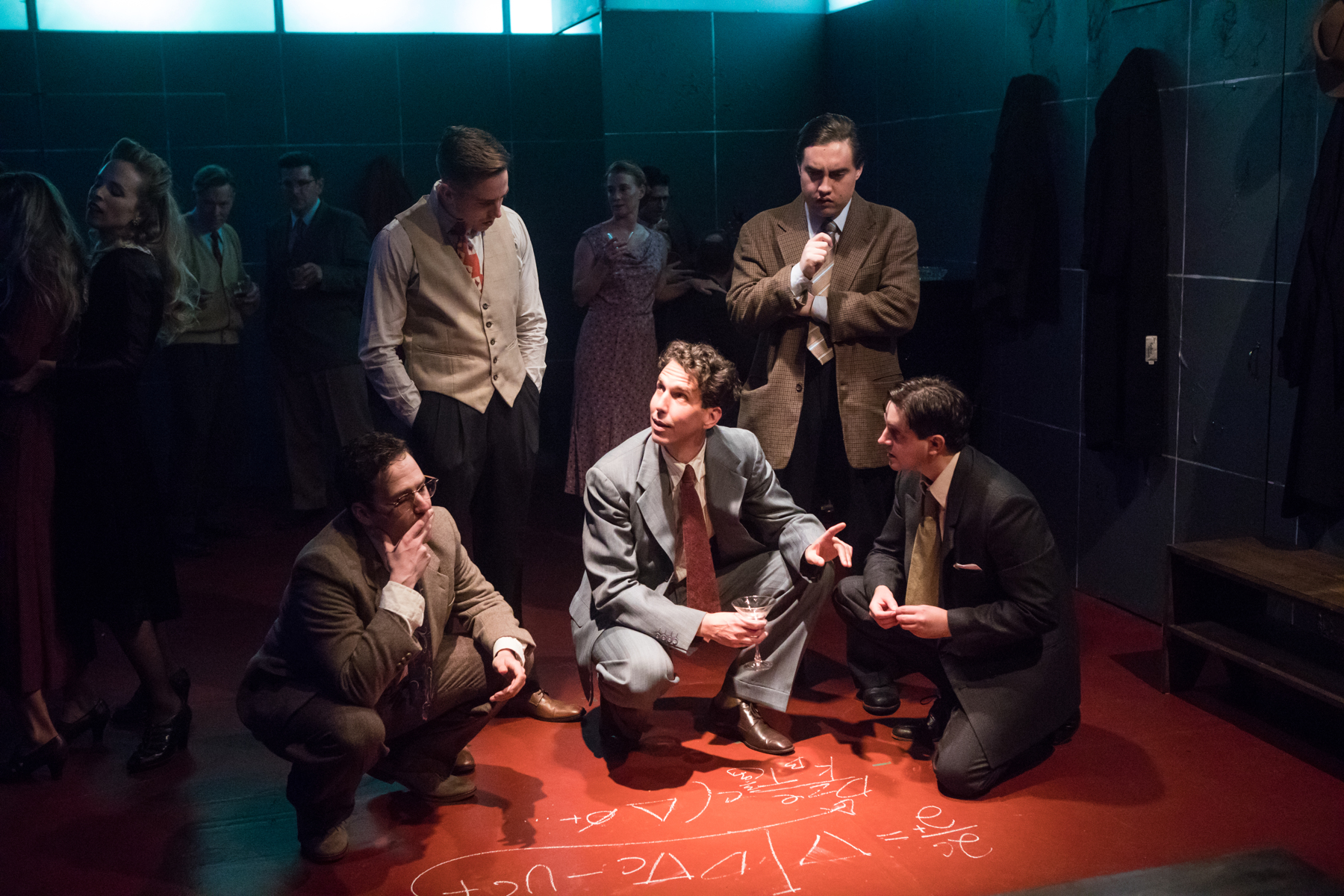 In a time where the world is teetering on chaos, where Venice itself is at a bizarre crossroads of lawlessness and fascist gentrification Oppenheimer should be required viewing. The genre of Atomica whether done in plays, films or now broken treatises on nuclear weapons are not in short supply. We have not yet entered a post-atomic age beyond Oppenheimers wildest nightmares. It would make sense we still have lessons to learn. From the dark satire of Kubrick's Dr. Strangelove or: How I Learned to Stop Worrying and Love the Bomb to entire mini-series' based on the events of the Manhattan Project the pop-cultural affectations toward the world-destroying weapon, Robert Oppenheimer stood at the forefront of what is the defining point of our civilization. This reviewer may be admittedly biased in this way since I wrote and directed She's Got an Atomic Bomb, a little punk rock novella short that toyed with the idea of dirty bombs in a post-911 world (with a future punk-rock soundtrack.) Mine was a what-if scenario that posed the question what-if a pissed off femme-fatale got hold of one to play out some fatalistic revenge scenario on "trust fund bunny rabbits," as she declares. I went more John Waters meets Repo-Man with it but I felt Oppenheimer reminds me that there is no greater story to tell or subject to examine right now than the atomic one. Understanding one of the most profound archetypes of our generation whether you are a Baby Boomer, Generation X, Millenial or even beyond atomic is vital.
     The pure education of the events and people surrounding this man during the build-up to the bomb is in itself a reason to watch the show. Young Richard Feynman, one of Oppy's right-hand men, played by Brady Richards looked eerily like a doppelganger of Feynman himself down to his accent and mannerisms. Lines like, "This man applies his mind to the world as a scalpel, he gathered us all in his surgeon's theater to observe, as he ripped open the veins of God," spoken by the General will leave you with chills. Yes, there were many things that could have been done differently perhaps to better or worse effect but the undeniable reality of this play is that it stands as an urgent mirror of today's global fracas.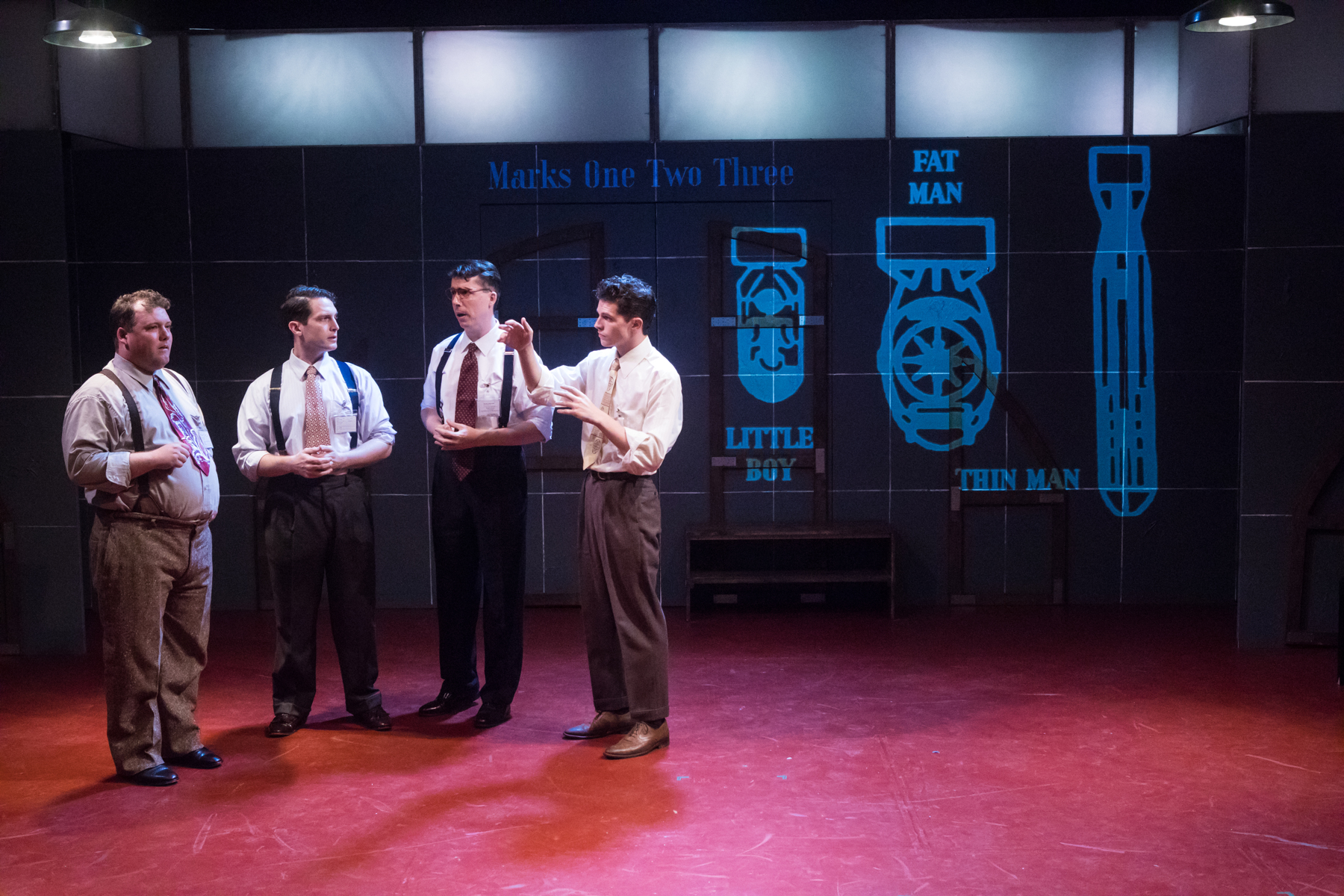 The young overly ambitions destructive overtones of Oppenheimer has modern contrast to the current culture of Silicon Alley/Beach, from the White House to the Kremlin, from the gathering of the next generation of artificial intelligence quantum physicists, crypto-currency developers and the wannabe adopters waiting for their turn to be remembered.
"How will I be remembered?", Oppy solemnly asks the audience in the final act giving us a clue, albeit a bit of an afterthought towards the devastation he inflicted on Hiroshima and Nagasaki.
Make no mistake, Oppenheimer is a tragic hero both ending the war and opening up a fiery Pandora's box that still has not closed.
The same parties Oppenheimer went to are happening with different music.
The same political conversations about socialism versus capitalism – with that the same paranoias are spreading enough to make the Bulletin of the Atomic Scientists own Doomsday Clock at its highest since the bombing of Hiroshima in 1944.
Think about that. What a great way to ring in the holiday season in Venice while we are currently two minutes to midnight.
Rogue Machine Theatre presents the American premiere of OPPENHEIMER by Tom Morton-Smith Directed by John Perrin Flynn Produced by John Perrin Flynn
Cast: Rachel Avery, Delilah Bank, Marwa Bernstein, Daniel Jordan Booth, Ron Bottitta, Ryan Brophy, Jason Chiumento, Brendan Farrell, Rori Flynn, Rick Garrison, Zachary Grant, Mark Jacobson, Kirsten Kollender, James Liebman, Daniel Shawn Miller, Scott Victor Nelson, Brewster Parsons, Sophie Pollono, Jennifer Pollono, Michael Redfield, Brady Richards, Kenney Selvey, Jennifer Sorensen, Rachel Sorsa, Landon Tavernier, Dan Via and Miranda Wynne